Over 500 delegates and 100 exhibitors from the foodservice sector joined the Country Range Group at the state-of-the-art Manchester Central Convention Complex for its annual exhibition and conference on June 8th with over £3 million in orders placed on the day.
Introducing The Refreshed Country Range Brand
Unveiling the new Country Range brand refresh in the flesh for the first time and celebrating the 15th anniversary of the Group's industry magazine, Stir it up, the spectacular event, which has been running for over 25 years, also featured a wide variety of brands from household names to small suppliers.
Exhibitors on the day included the likes of Agristo, Sidoli, Dawn Foods, Nestle Professional, DaVinci Gourmet, Oggs, Knorr Professional, The London Essence Co, Plant It Foods, The Compleat Food Group, Glebe Farm, Spinneyfields Cheese, Yorkshire Tea and Stokes Sauces to name a few.
In line with the Group's focus upon sustainability they worked with FareShare who will redistribute all the surplus food from the exhibition to charities and community groups helping people facing food insecurity.
CRG Conference Announcements
The annual CRG conference followed the exhibition with Chief Executive Martin Ward taking to the stage to provide an update on the Group and its ambitious plans.
Also, expressing his dismay at what he called 'disingenuous' businesses in the market portraying themselves as independent when in fact they are far from it, his speech reiterated the benefits and his passion for real, authentic independent wholesalers.
Martin also provided an update on the Group's sustainability strategy, which has seen the Group's members reduce their operational emissions by 20% and their carbon intensity by 40% since 2019, meaning CRG members generate 40% less emissions for every £1 of revenue generated.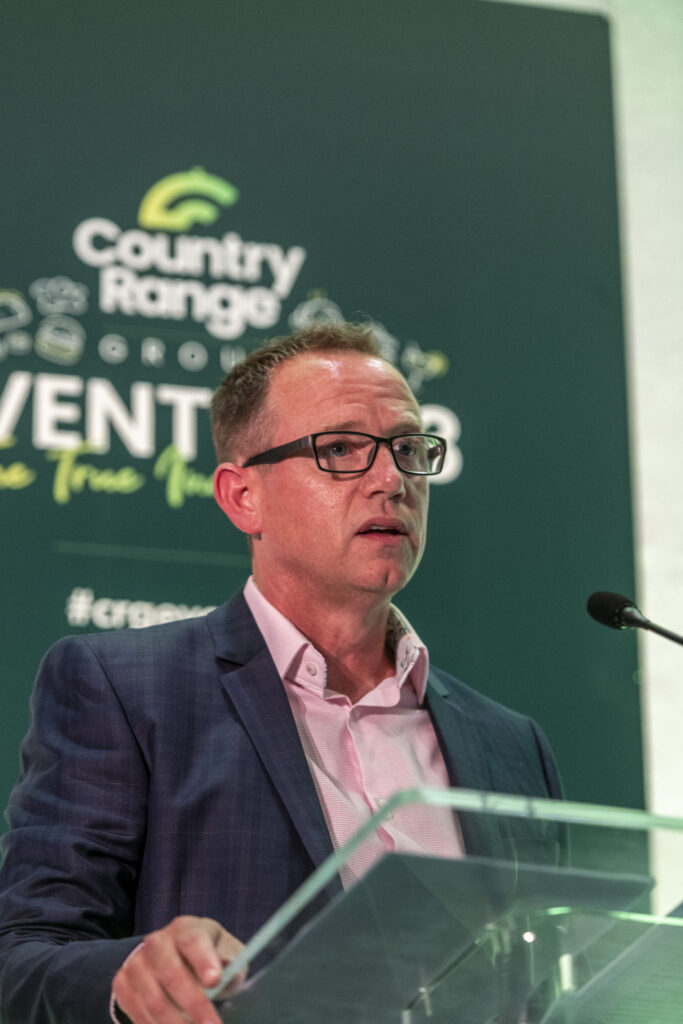 Head of Marketing Emma Holden followed with a marketing update highlighting the Country Range brand refresh roll out plans as well as some enhanced branded supplier digital and print advertising packages.
The conference guest speaker was John Ryan, a multi-award-winning comedian and mental health advocate, who entertained, educated and enlightened guests using his unique style of wit and observations to break down the taboos surrounding mental health.
A special CRG event app was also created to increase interaction on the day and a charity raffle was held with £2,014.50 raised for Hospitality Action.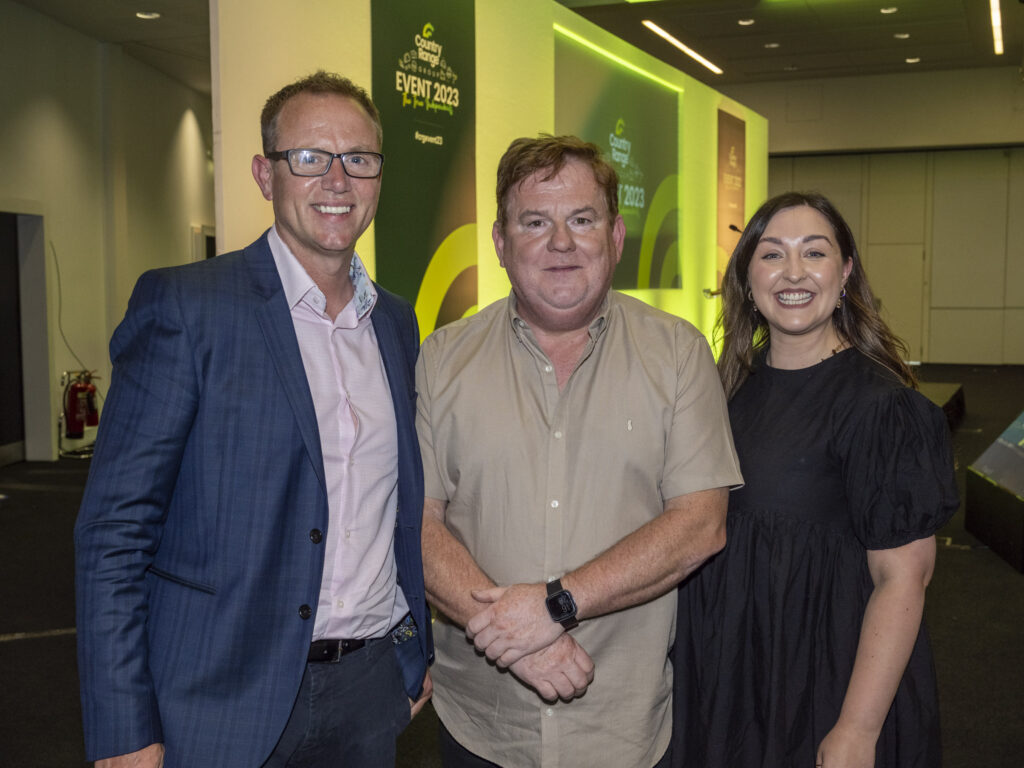 An Evening Of Celebration!
The day was rounded off with an evening of entertainment at the iconic 20 Stories Restaurant & Bar, situated on the 19th floor of No. 1 Spinningfields. The evening entertainment, organised by Begin the Party Consultancy, featured the UK's best industry level session musicians and performers such as MusicMen, The Sessions and DJ Leanne.
A Great Success for Members and Suppliers
Martin Ward, Country Range Group Chief Executive, said: "It's fantastic to take our annual exhibition, conference and evening celebrations to a new city and the incredible Manchester Central venue was the perfect place to stage it. The day is always a special opportunity for our proudly independent members to come together and discover the vast, diverse and unique range of products on offer from innovative suppliers. With over £3 million in orders placed by delegates and our brand refresh well and truly activated, it was a fantastic day."
Georgia Beech, National Account Manager for Oggs, said:
"The CRG exhibition is essential for our brand and provides the perfect platform to showcase applications plus meet our wholesalers and route to markets, who are so important. The show helps us build relationships, while also allowing us to show the products in different applications."
Josh Clinton, Coffee Application Specialist and Business Development Manager for DaVinci, said:
"It's great having an email or contact but seeing the tangible product in front of you, tasting it, bringing it to life and having that conversation on how to best use it from an application and cost perspective really can't be beaten, which is why the Country Range Group exhibition is a hugely beneficial day for DaVinci."
Darren Chapman, Development Chef at Nestle Professional, said:
"The Country Range Exhibition was brilliant fun but most importantly it gives us the ability to display our wide range of brands such as our coffee, Maggi, branded dessert ingredients and Garden Gourmet brand to all the Groups members in one place. It's great for the group's members but also the suppliers as well as everyone is one place."
Want To Get Involved In The Next CRG Event?
Suppliers interested in participating in the upcoming Country Range Group Business Development Day, scheduled for the end of September 2023, are invited to email enquiries@countryrange.co.uk or contact their regular Country Range Group trading representative if they are already a current supplier to the Group. Alternatively find out more about The Country Range Groups upcoming events.